Golden Key Maker
5, Jalan Kenari 2,
Bandar Puchong Jaya,
47100 Puchong,
Selangor, Malaysia.

+603-5891 9941

+603-5891 9941

YALE YMF30 DIGITAL DOOR LOCK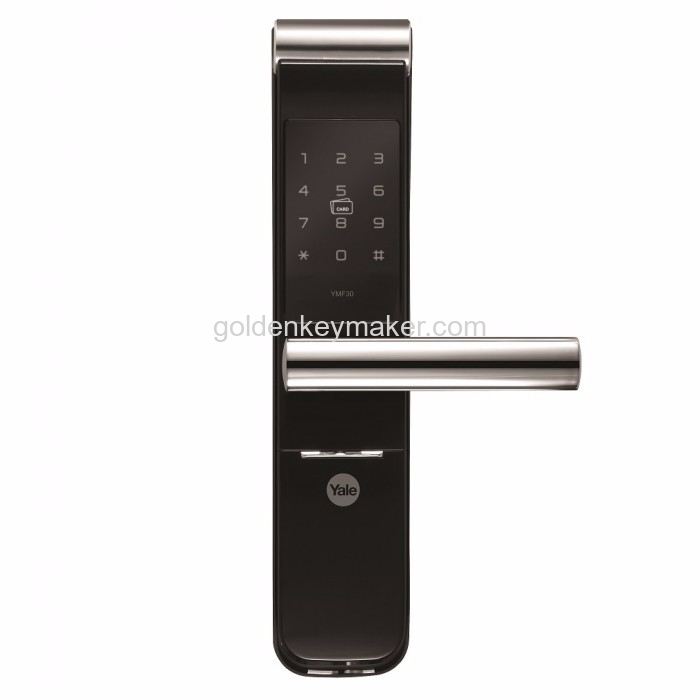 Features & Benefits
.Various Access
Yale YMF 30 has various access solutions, Card, Pin code, Key override, Remote Control for your convenience.

Mechanical key override
For emergency, it can also be unlocked with a mechanical key.

Operation status notification
Whenever any operation is made, the keypad informs you what is happened through different alignment of the numbers.

Voice Guide Feature
Whenever any opeartion is made, the keypad informs you what is happened though different alignment of the numbers.

Automatic Locking
The Yale series automatically locks the door after checking it is properly closed. (Manual operation is also available.)

Invisible Keypad
Keypad can be seen only when you touch the screen with your palm.

Alarm (Break-in / Damage/ Fire)
80dB alarm goes off if anyoue attempts to damage the lock or force the door open, or if the lock detects over 55°c.

Low Battery and Emergency Power
It warns in case of low battery with alarm and LED. When the batteries are completely discharged, you can easily supply emergency power to the lock with a standard 9V battery.

Fake PIN code
To prevent the PIN code from being exposed, it allows you to enter FAKE numbers before or after entering your PIN code.

Remote Control (Optional)
Remote control type is also available. Wireless Floating ID technology is adopted and works up to 50m.

Price: RM2488

A digital mortise lock is the preferred lock for main and external doors. A mortise lock is a deep pocket lock that is inserted into the body of the door, lending greater security compared to a regular deadbolt or surface mounted lock. Most digital mortise locks come with a mechanical override key.
The good news is, digital mortise locks are able to replace most existing conventional locks on a door as the width and length of the digital lock is sufficient to cover the existing holes left by the previous lock.
*Warranty period : 1 years on manufacturer defect with online registered.