Golden Key Maker
5, Jalan Kenari 2,
Bandar Puchong Jaya,
47100 Puchong,
Selangor, Malaysia.

+603-5891 9941

+603-5891 9941

SASMAUNG SHS 6020 DIGITAL DOOR LOCK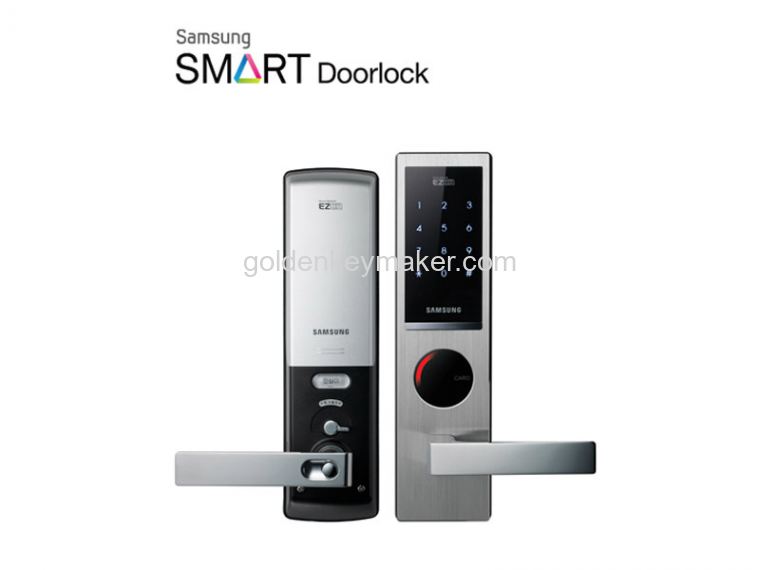 Description
Luxurious Touch-Screen Design
The SHS-6020 secure and looks great. Touch-screen interface is simple yet stylish. Keypad illuminates upon touch. A truly sophisticated digital lock for the home or office!
Samsung EZ On SHS-6020 Magic Number
Secure Magic Number
A random two-digit number hides keypad access. Magic number will obscure any trace of passcode history. Only authorized users will know how to access keypad. Easy to configure and use. Thieves will be stumped!
Samsung EZ On SHS-6020 Secure Handle
Secure Handle, Stylish Lock
The SHS-6020 handle provides added security and style. Forced entry or physical damage to handle triggers an alarm. Sleek handle is comfortable and easy to grip. Clean looking install with handle and lock integrated into a single frame.
Samsung EZ On SHS-6020 Assured Security
Samsung Smart Lock Assured Security
Electric shock and strength tested, fire safety and quality certified. Samsung Smart Locks exceed all security and safety standards. Samsung Smart Lock can withstand high-voltage electric shock applied circuit techniques. Indoor and outside temperature above 140°F is detected while sounding an audible alarm. Rest assured your door is secured and completely tamper proof.
Samsung EZ On SHS-6020 LED indicator
Easy to Use, LED and Sound Indicators
Circular LED indicator inform user whether access is granted or denied. Built-in speaker can be enabled to provide sound indication. Easy to configure and use, even for children.
Samsung EZ On SHS-6020 Easy to Configure
Modern Chic Slim Silver/Black Design
The SHS-6020 looks great on any door. Fully integrated interface an handle provide a sophisticated appearance. Silver finish handle is both appealing and ergonomic. The SHS-6020 is recipient of the Red Dot Design Award!
Battery Replacement Alerts
Samsung Smart Lock plays a catchy melody when its batteries need to be replaced.
Emergency Power Supply
Battery terminals are provided in case the lock has no power. Simply connect a 9V battery.

Price: RM1880
Warranty period : 1 years on manufacturer defect.
*We provide installation service within klang valley for rm250.